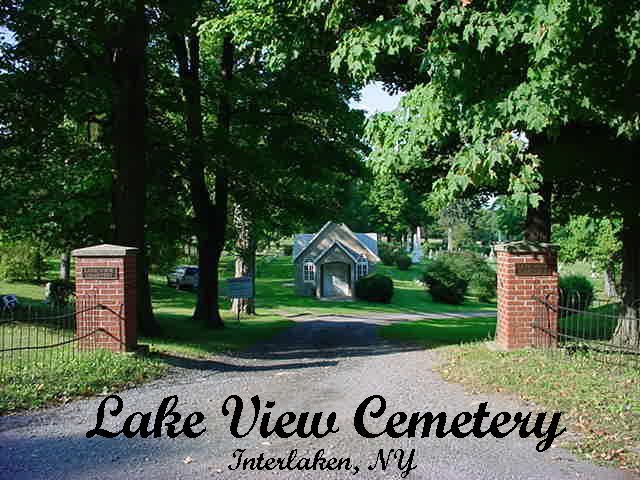 Please see www.findagrave.com for information on burials or contact the cemetery.
For additional information on burials at the cemetery please use the contact us form and we will be happy to check for additional information.
To make arrangements for a burial at Lake View Cemetery please contact Diane at 607-280-2099
Did you know there are several Lake View/Lakeview Cemeteries in NYS?
If you don't find your family members at Lake View Cemetery in Interlaken, check at one of these locations.
| | | |
| --- | --- | --- |
| Lake View Cemetery | | |
| Williamson, NY 14589 | | |
| Larry Fisher | | |
| 6873 Tuckahoe Rd | | |
| 315-589-8859 | | |
| lfisher@nothnagle.com | | |
| | | |
| Lake View Cemetery Association | | Lakeview Cemetery |
| Jamestown, NY 14701 | | Village of PennYan |
| Randall Shenefiel | | Penn Yan, NY 14527 |
| 907 Lakeview Ave | | Lynn Axtell PO Box 426 |
| 716-665-3206 | | 315-536-3221 |
| lakeviewcemetery@windstream.net | | laxtell@villageofpennyan.com |
| | | |
| Lakeside Cemetery Association | | |
| Kendall, NY 14476 | | |
| Larry M. Klafehn | | |
| 1534 County Line Road | | |
| 585-659-8145 | | |